Gwtw4eveR Fashion Doll
Dress Patterns

There are two (or more) different patterns on each page: Please scroll down.
1956 Princess Bridal Gown (Grace Kelly)- pearl strewn princess seamed lace bodice, lace edged long sleeves and collar with bead/button trim, bell shaped skirt pleated to waist, bow trimmed attached train with lace inset, pleated midriff sash, lace Juliet cap headpiece with flower band and pearls, lace edged floor length veil, net and taffeta petticoats, fabric & flower trims for missal/bouquet, hair arrangement, jewelry, and lace covered shoes.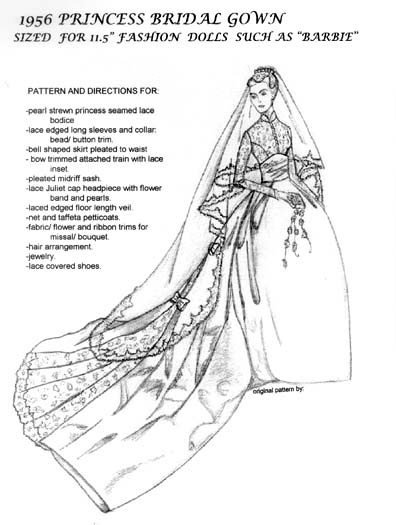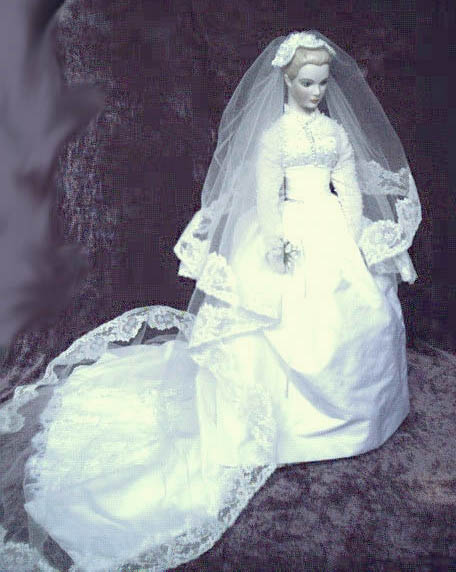 Postage quoted on checkout is USA mailing. Non-USA WELCOME but postage if higher- please contact us directly and we will quote postage to your location.
Fashion Doll Sewing patterns are $15.00 each plus S&H
Doll Patterns inspired by our favorite heroines.
Available in 2 variations:
Sized for 11.5" fashion dolls such as "Barbie"
Sized for 15.5" fashion dolls such as "Gene" & also for 16" dolls such as "Tyler"


1981 Royal Wedding Gown ( Princess Diana): Taffeta dress with pearl strewn lace collar, cuffs and bodice insets; oversized lace trimmed sleeves; 25" train proportioned to doll's size; 3 layer train length veil with pencil edge and pearl trim; net and taffeta petticoat; lace garter; embroidery of golden horseshoe; bouquet suggestions; hair arrangement; jewelry illustrations including crown ; beaded taffeta covered shoes with heart decoration.
This pattern available in both doll sizes.
gwtw4ever2@earthlink.net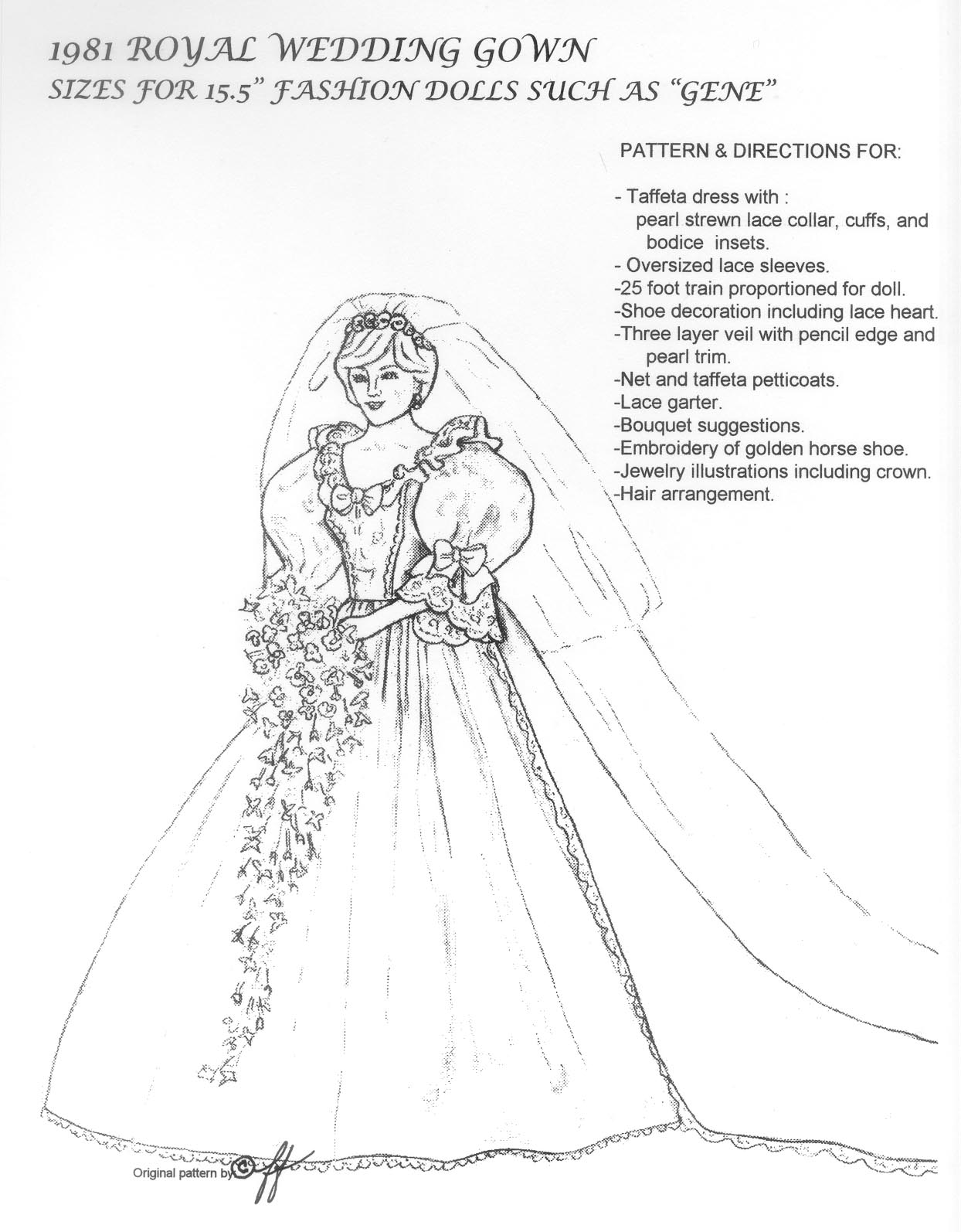 Regal Splendor Bride (Kate Middleton)- one piece pearl strewn silk dress with: sweetheart neckline under bodice, lace outer bodice with long scallop edged sleeves, collar and neckline; A-line skirt with reverse pleats; built in train with butterfly detailing; detachable train option; net & fabric petticoat; bouquet details; hair arrangement; jewelry sketches for scroll tiara, earrings, ring.
This pattern in the 15.5" size comes with separate bodice pattern pieces for the 16" fashion dolls such as those by Tonner.
This pattern available in both doll sizes. Please write to order.
gwtw4ever2@earthlink.net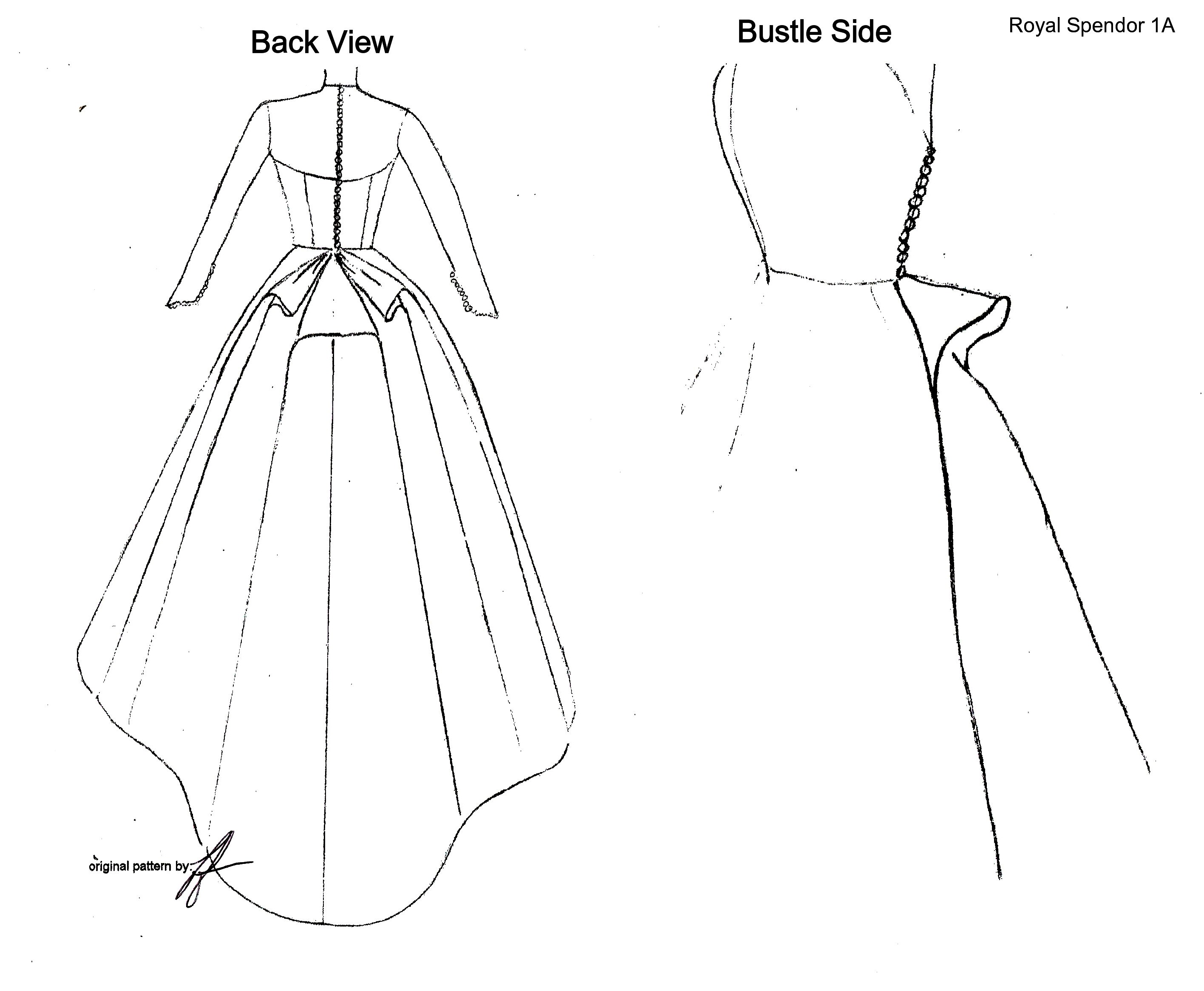 The 15.5" doll patterns are used for the Franklin Mint dolls. The seamstress has both the FM as well as the Gene mannequins. The patterns are drafted on the Gene mannequin. However, the variation between the dolls is quite minor and you should be able to adjust the pattern as need be at the side seams.
COPYRIGHT: All copyrights remain with the designer. Unauthorized use of or copying of images or conceptual duplication, in whole or in part, is strictly prohibited. All rights reserved. Protected under international copyright law. Commercial or industrial use prohibited unless there is a written agreement with GWTW4EVER.
GWTW4EVER is not responsible for misprints or other errors, and in no event shall be liable for any damages whatsoever resulting from the purchase, or use of this product.


Home / Doll Patterns Index / Life-Size Gowns
GWTW Collectables /Seamstress
Gwtw4eveR ™ www.gwtw4ever.com™ and its contents
are copy rights of ®Gwtw4eveR 2005-2013