Scarlett O'Hara's Famous

BBQ Party Gown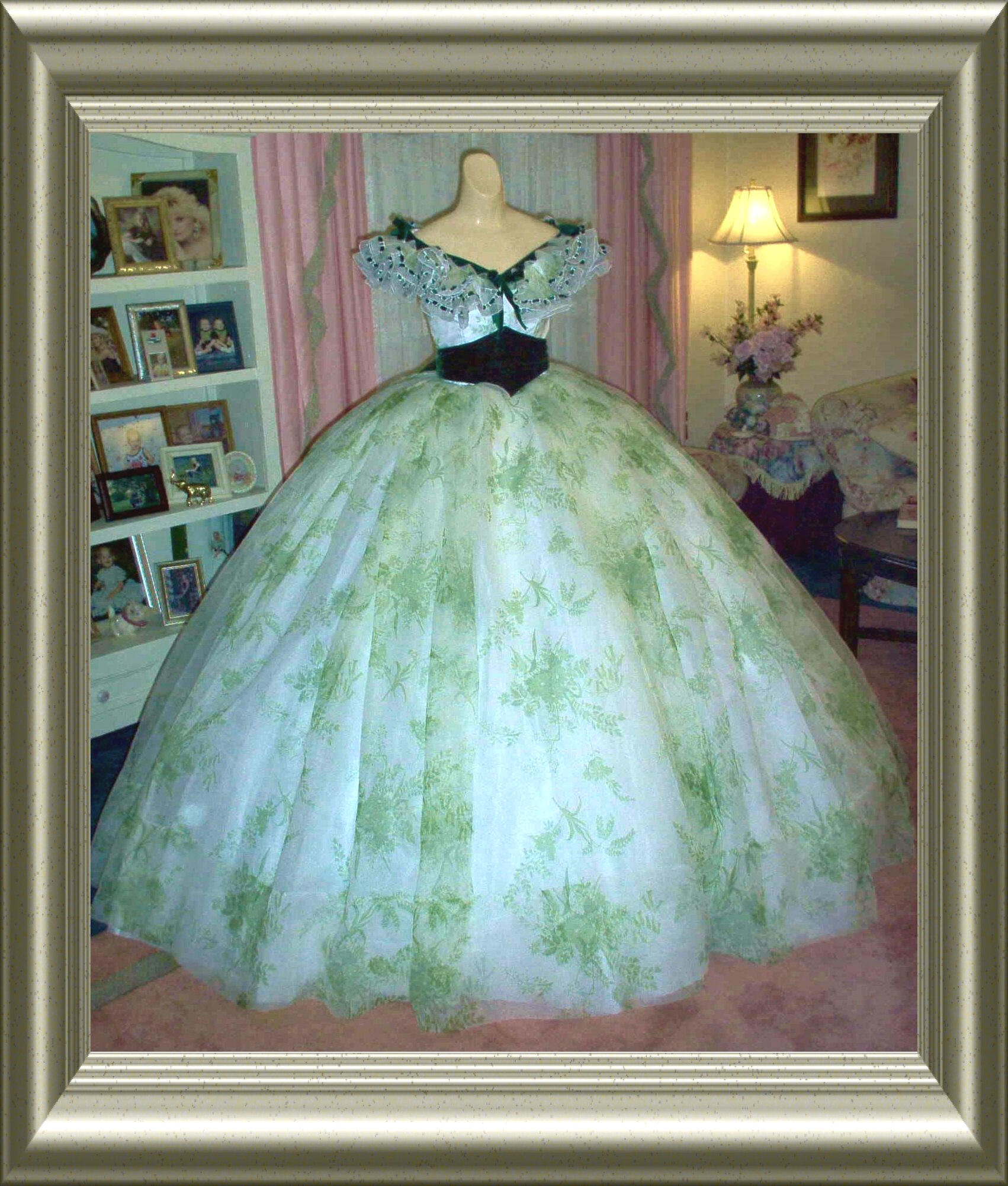 "Reproduction BBQ Dress"

"Dee's BBQ dress"

This BBQ gown was constructed using the BBQ replica fabric. It is made with a minimum of 18 yards of the print (maximum may be 23 yards or more depending on hoop size and person's height). The above pictured BBQ dress is an example of one made for a taller lady who is 5'7". This gown was constructed with 23 yards in the top layer. It is also shown over a 191 inch circumference hoop. We have constructed this gown in different sizes.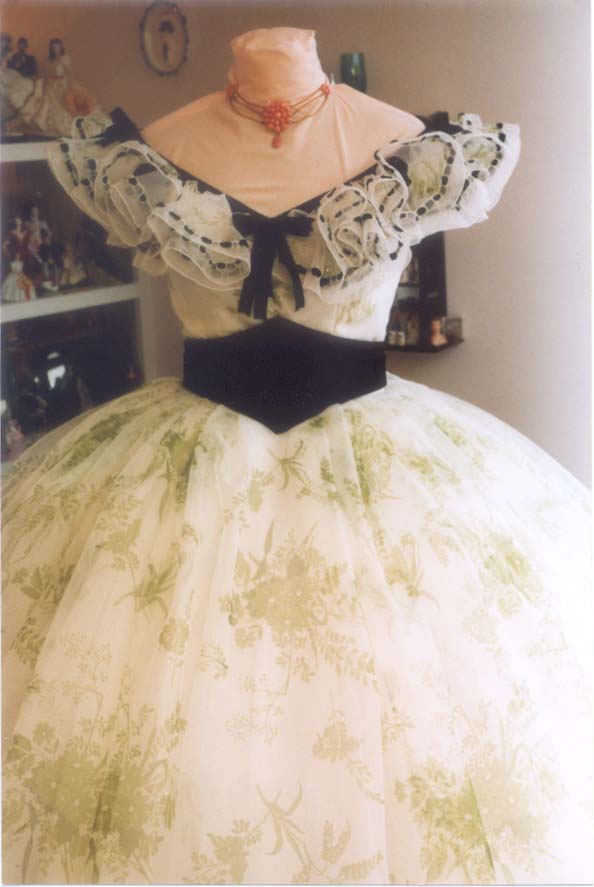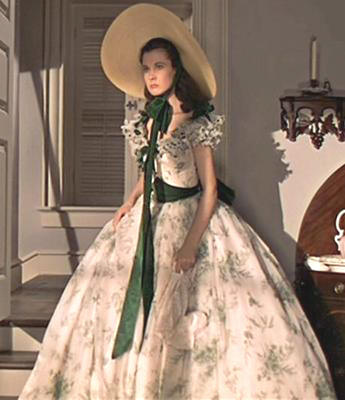 "Gown pictured on left is a Gwtw4eveR reproduction BBQ while picture on right is Vivien Leigh in film.

The Outer skirt has a very deep ( approximately 9 to 10 inch ) hem which is finished by hand and is over 350 inches wide at bottom edge.
The Under skirt is 16 + yards of silk organza with a taffeta lining layer of 15 + yards.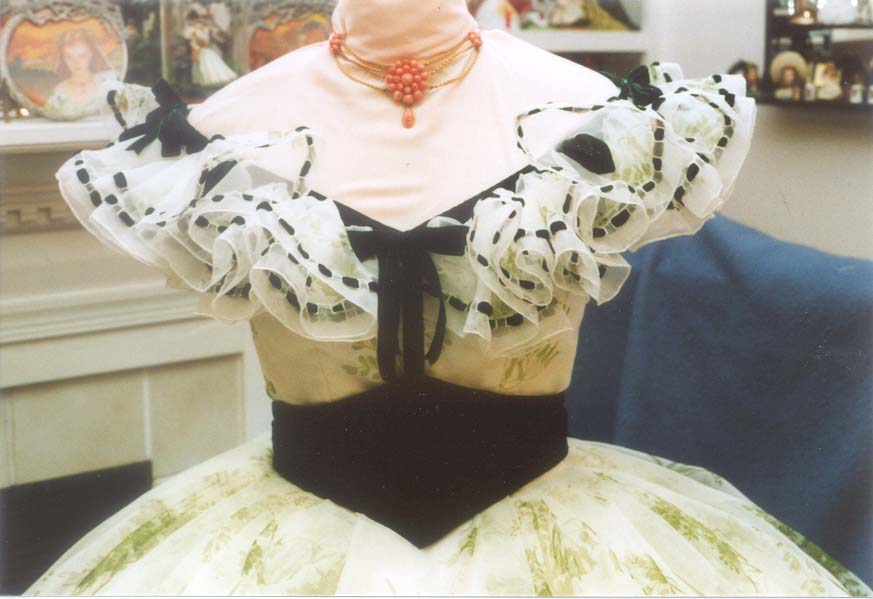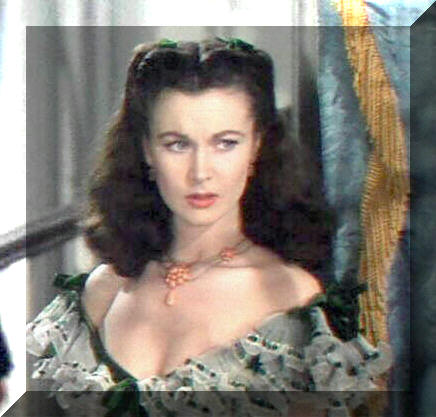 Bodice is 4 layers: the outer print, and beneath it silk organza, taffeta and then lined with taffeta. It is boned throughout.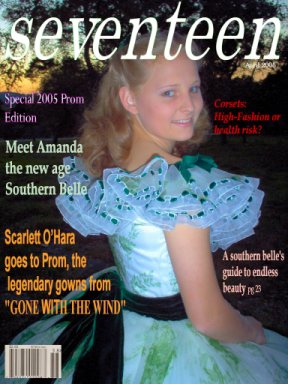 Bodice is closed with hooks and eyes in a concealed placket with an additional 8 used to connect it to the skirt.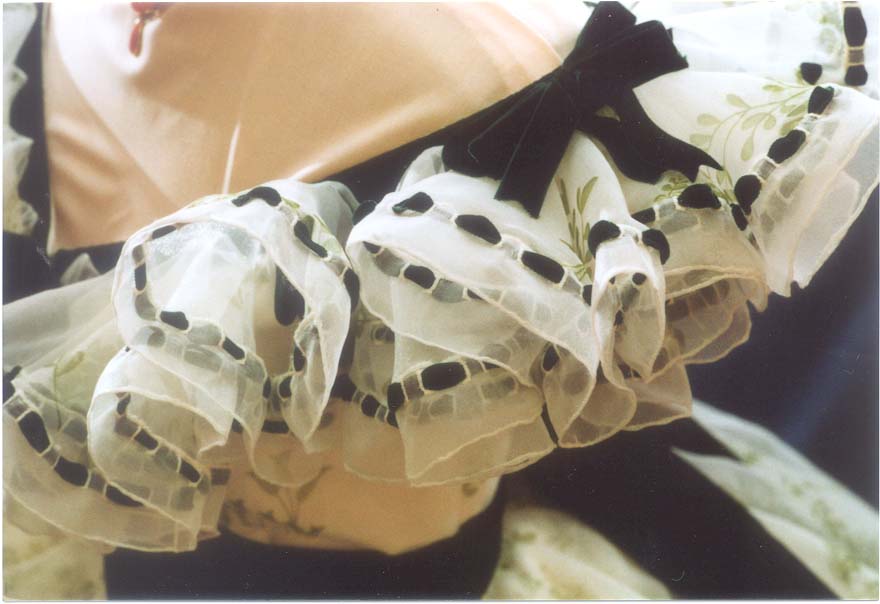 Neckline is made of 22 serpentine circles with a hand rolled 18 yard edge of silk organza in which an excess of 1176 buttonholes are made and hand cut, then 20 yards of velvet ribbon is threaded through them.



The velvet sash is boned and has a bow with ends that extend almost to the hemline.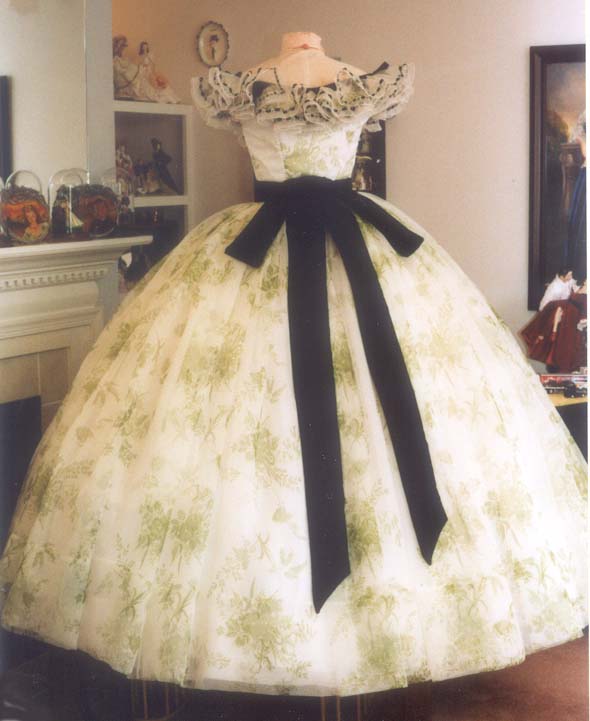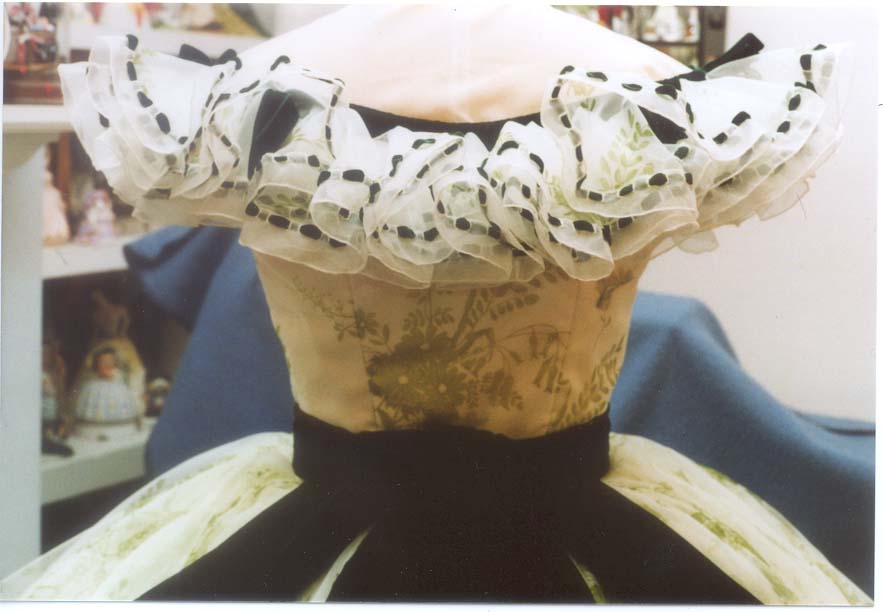 "Both images are Gwtw4eveR's reproduction BBQ Dress made for Dee"

Two green velvet bows on either barrettes or side combs are included.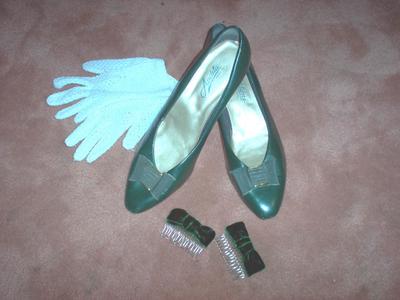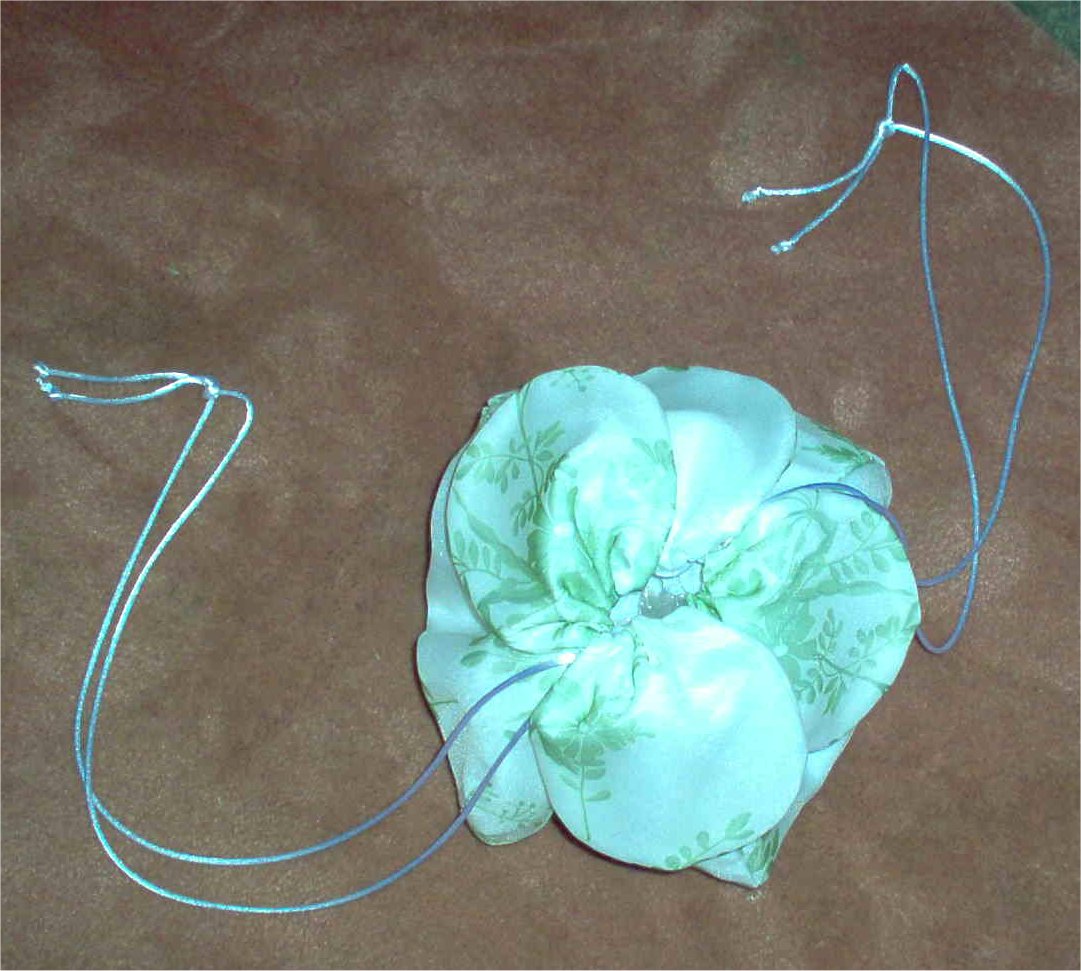 "Shoes & gloves not included Hair bows and matching petal purse are."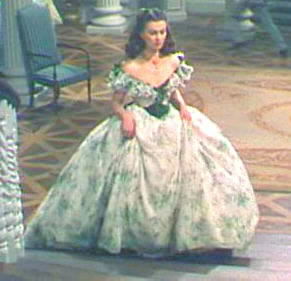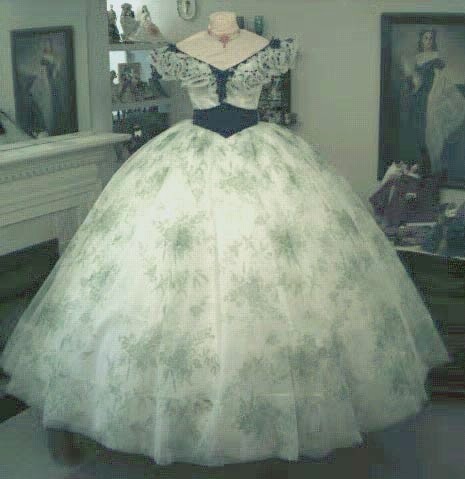 "The Original Gown" "Gwtw4eveR's Reproduction for Dee"


Dress requires a heavy weight 7 wire hoop slip with minimum bottom circumference of 175 inches ( maximum of 191 inches) . See Underpinnings page for examples.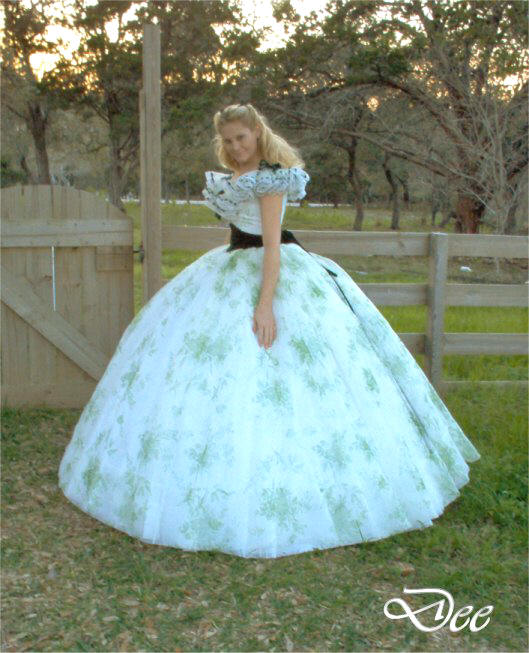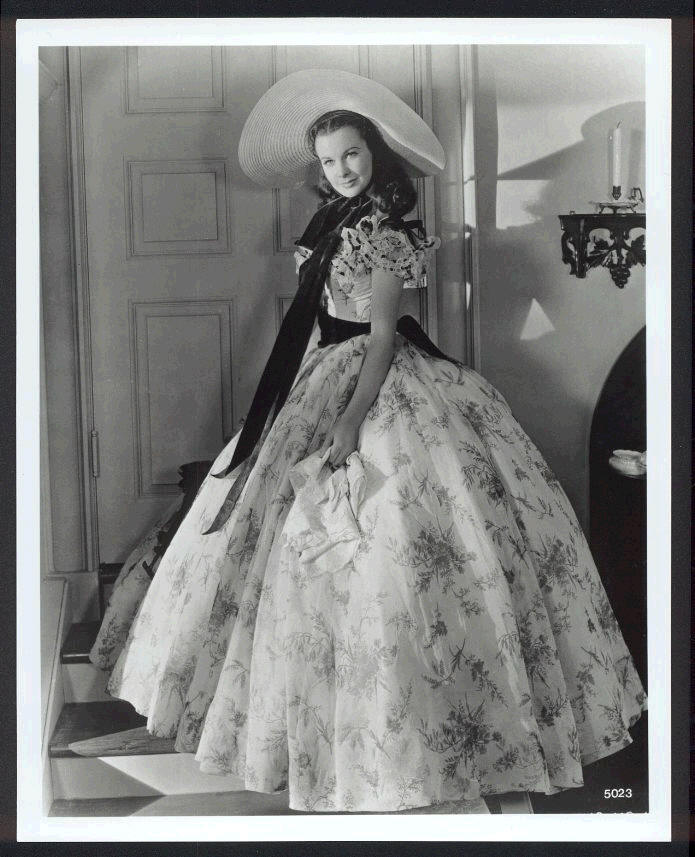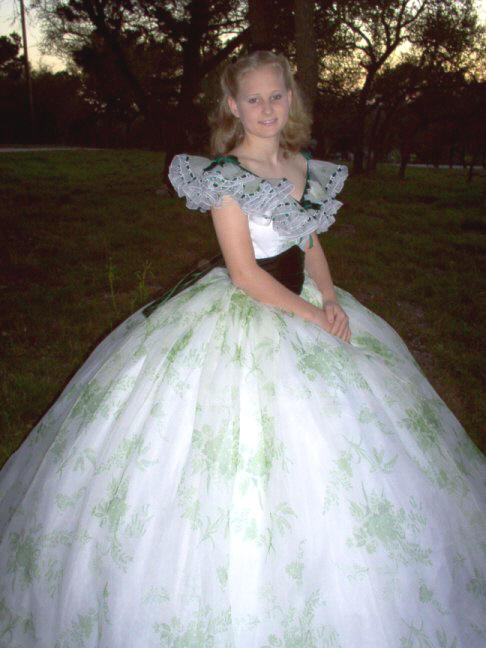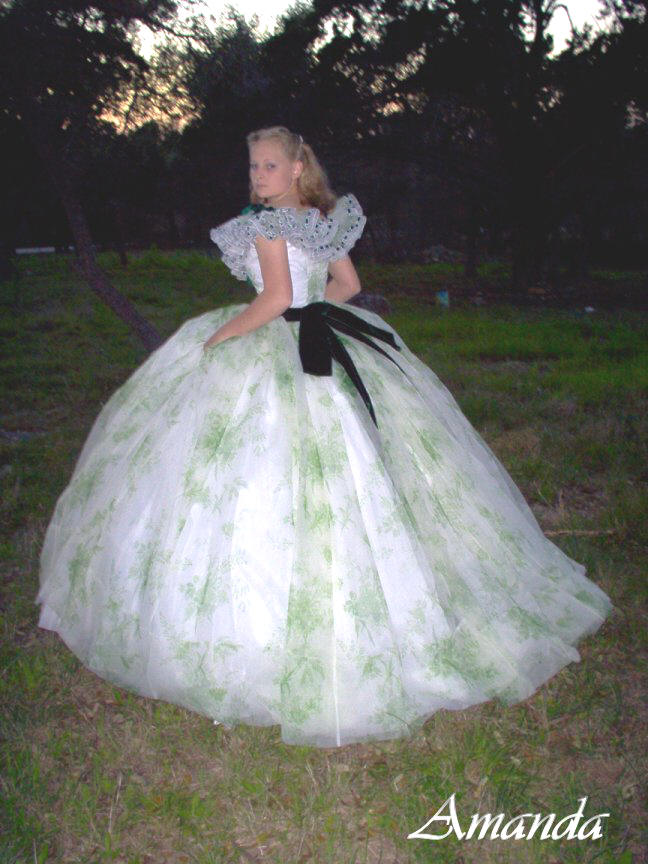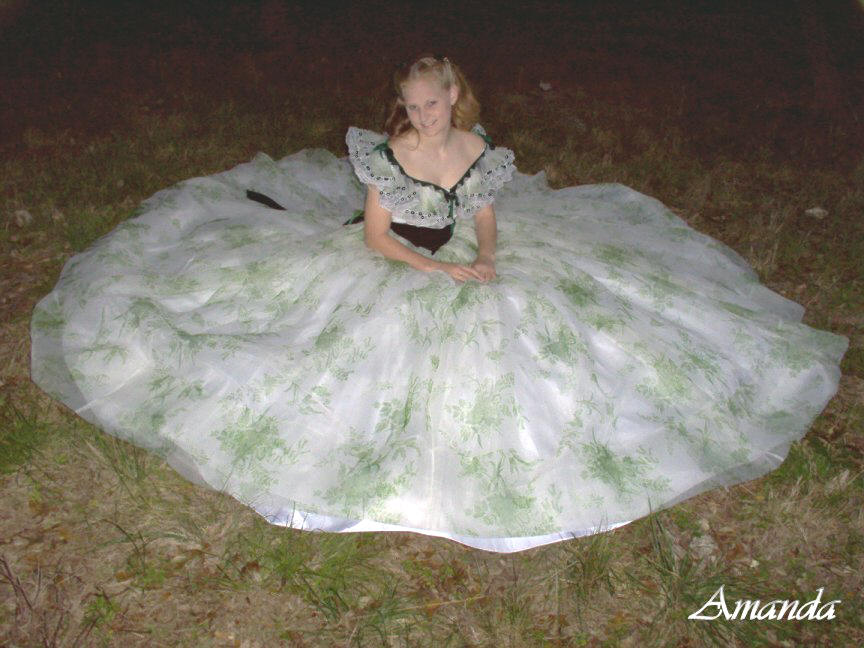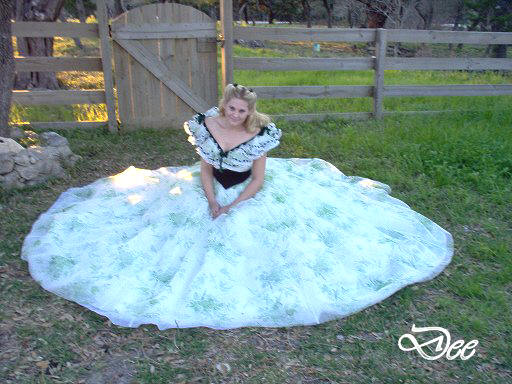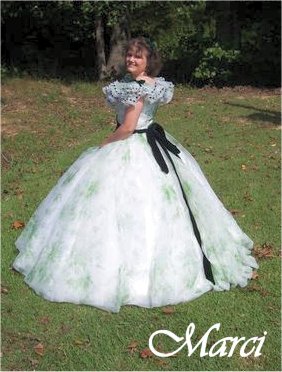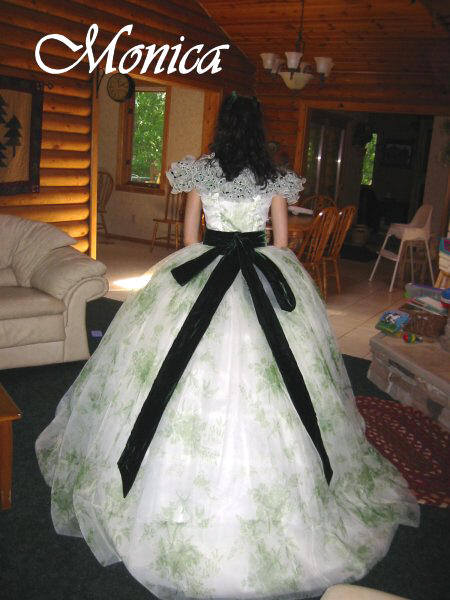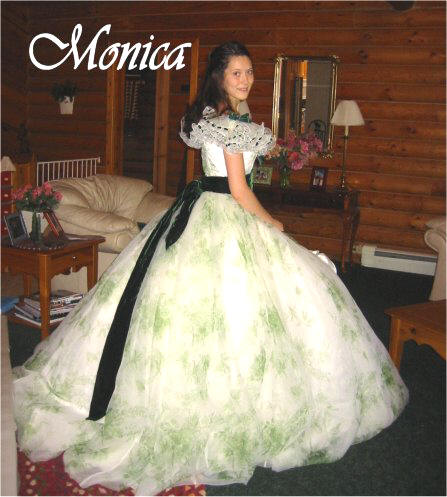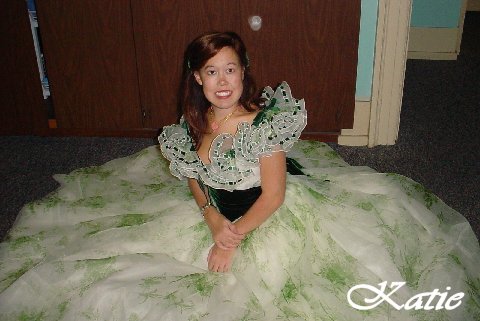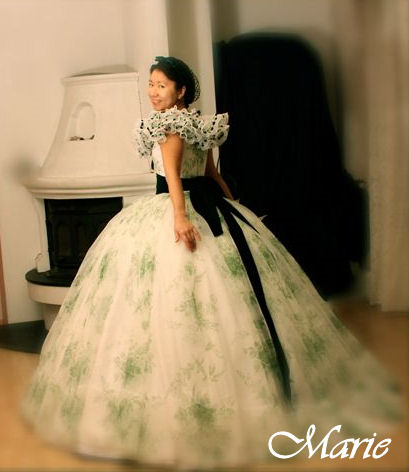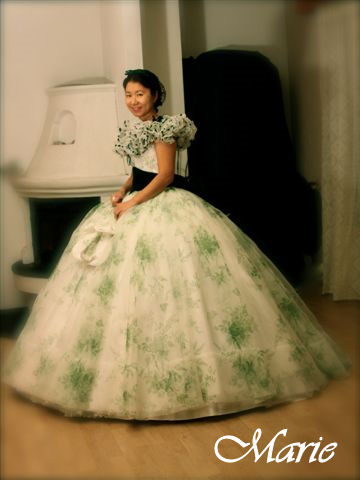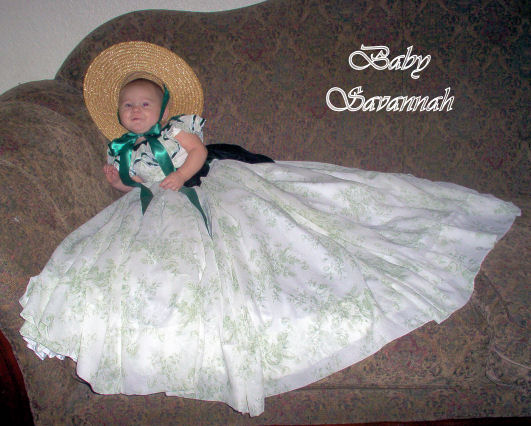 For baby Savannah by Gwtw4eveR: this dress was originally made for a doll.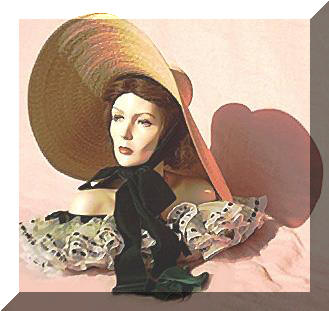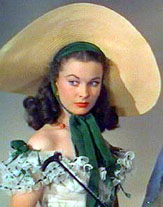 "Reproduction BBQ hat for Brenda"

"Original hat from film"
Optional : custom made wide brimmed hat trimmed with 3 yards of 3 inch width matching green velvet ribbon is available.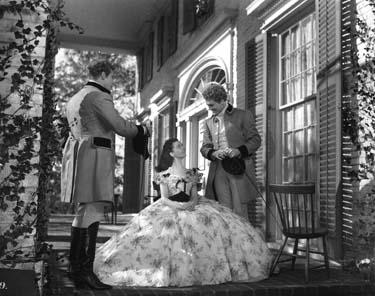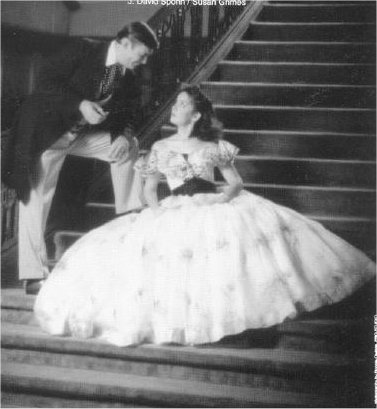 "Original BBQ gown in GWTW" " Susan Grimes"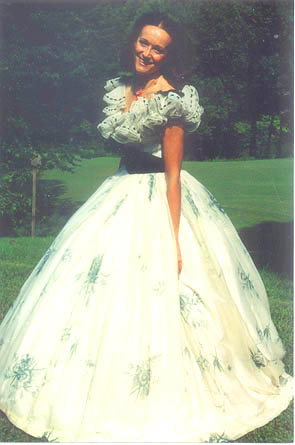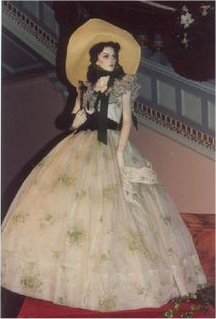 Fran wearing the BBQ gown from the "Guiding Light" Soap Opera, She was retained to correct the neckline on the gown. Image on right is a BBQ dress on display at the 1992 Atlanta "Search for Scarlett" TV event gala.

~ The fabric for this gown is extremely difficult to photograph. The best color of the gown is the first image on the BBQ gown main page. The sash appears black in many pictures but is a rich dark green velvet. The ribbon is also a dark green velvet. There are two different dress size variations in the thumbnails of this gown. The first group of bbq dress pictures are of dresses made for a tall lady about 5 foot 7, using 23 yards of the top print layer. The second group of images are a gown made for a 5'2 tall lady using 18 yards of the print fabric. Both of the gowns are shown over 191 inch circumference hoop slips.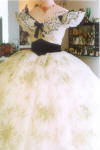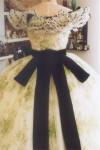 ~Example BBQ dress made for 5 foot 2 frame lady~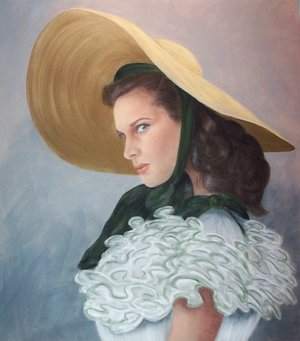 Walter Plunkett's original sketc is on left: an original art piece of V ivien Leigh is on right.


`Inquire about Life size reproductions~

If you are interested in having any of the Life Size Gone With the Wind Reproduction costumes ( gowns etc. ) please email us with your current dress size and height and the costume you are interested in replicating. We will send you back a measurement chart for fitting. We are not limited to Scarlett costumes. If you would like any of the other dresses or costumes from GWTW or other films we can discuss recreating them for you. Please send your inquiries about life-size dresses etc. to gwtw4ever2@earthlink.net.
Gown Prices
Since the figuring of the costs for one of these replicas can be time consuming taking many hours of research into current fabric costs, we will quote you the recent charges for a few of the film dresses.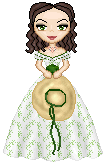 Home / Doll Patterns Index / Life-Size Gowns
GWTW Collectables /Seamstress