Gwtw4eveR "Gone With the Wind"
Collectables For Sale

WE NOW OFFER BOTH CUSTOM MADE DOLL DRESSES AS WELL AS ITEMS MADE BY FRANKLIN MINT.
DRESSES MAY BE ORDERED ON FRANKLIN MINT VINYL DOLL ( complete with accessories as listed ) OR AS COSTUME/DRESS/OUTFIT ONLY
PLEASE SEE our "Scarlett Doll" page for selection of Custom Made Scarlett Doll dresses; MELANIE Doll dresses; as well as RHETT BUTLER'S TUXEDO. All costumes from film designs by Walter Plunkett and recreated by designer of the doll dress patterns :ALL sized for 15.5" to 16"vinyl dolls such as "Scarlett O'Hara" from Franklin Mint , "Gene", Tonner's "Melanie Wilkes" and "Scarlett O'Hara" as well as "Rhett Butler" and others. All prices are plus S/H/I.
NOTE: Custom made dresses/outfits require 2 to 6 week construction time after receipt of deposit.
IMPORTANT: all prices subject to change without notice. Prices good only on day of quote. Due to volatility of secondary market and increasing scarcity of the vinyl dolls, we cannot guarantee availability of any DRESSED doll or any outfit until you write to reserve one and make deposit and we confirm to you.
Licensed Franklin Mint Gone with the Wind merchandise
For Sale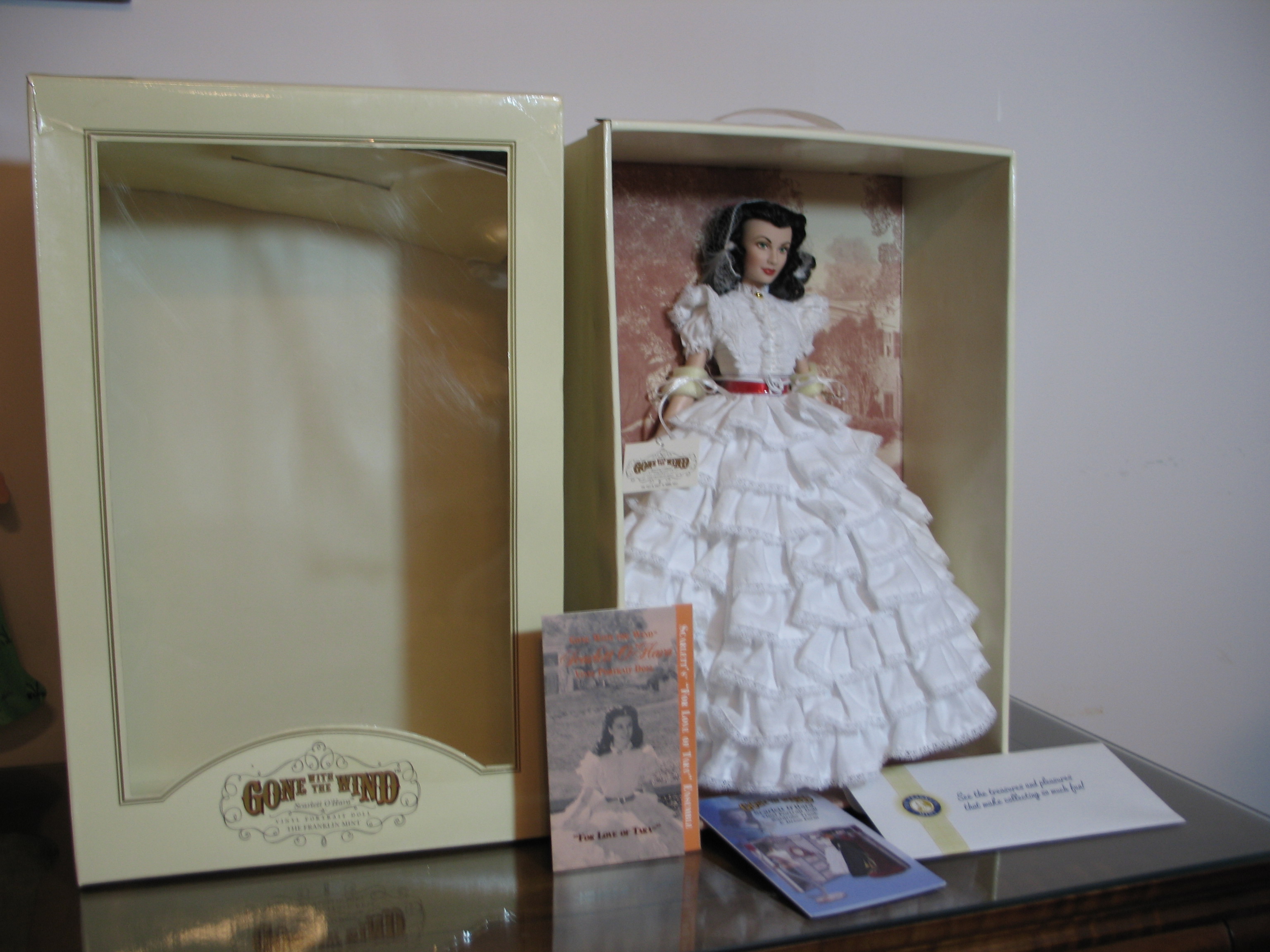 SCARLETT'S DECEPTION: the Drapery/curtain dress figurine on base with glass dome. Issued originally at $35 each. Email for availability